Posted by Jake Hinojoza on Nov 7, 2017 9:00:00 AM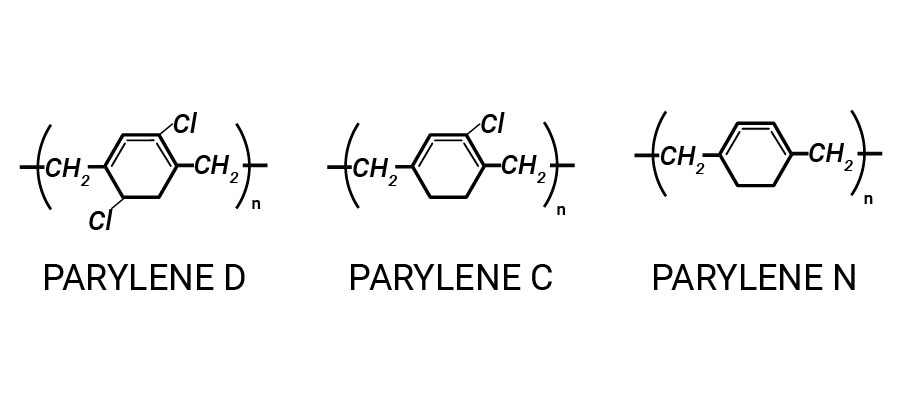 Parylene is used medical, aerospace, military and almost every other industry we can think of. It's applications are as varied as its benefits and has an impressive list of advantages over other conformal coatings. Taking an even closer look shows that the different types of parylene have their own unique benefits. Each of the three types is best for a certain kind of job.
Parylene Types
Parylene applications have a very specific goal for protecting the product it is being applied to. Protections from extreme cold, heat or wind are the most common factors that determine which parylene type to use.
One of the first steps before any job can be considered is what is the coating is meant to protect against. For example, is it crucial for the product to be resistant to a high melting point? Or will the product be exposed to corrosive gasses that could render the product useless?
Decisions like this are important because choosing the right coating will ensure the product performs it's job.
Parylene X 3
Here are the three parylene types used on various mediums that need protection.
Parylene N. Parylene N is a common and widely used conformal coating. Often considered a basic type of coating because there are any applications of the product. Parylene N has a melting point of 420°C (or 788°F), has a unique vacuum stability, and has proven very usefulness in applications of high frequency.

Parylene C. Parylene C is highly resistant to corrosive gasses, moisture, vapor and various chemicals. The coating can protect products for up words of 10 year in extreme environments. Because of these characteristics, Parylene C is used for most products that need a conformal coating for protection.

Parylene D. Parylene C and D are very common in characteristics. However, Parylene D has a slightly higher temperature tolerance. This coating provides reliable assembly protection at 100°C (commonly known as the point at which water boils), in oxygen-dominated areas.
Why Use Parylene Conformal Coating?
Now that we have covered what Parylene conformal coating is, the three main types and each of the characteristics, lets look at why you should use parylene over other conformal coatings.
Protection. Each type of parylene protects against extreme heat, cold, corrosive gases, vapor, and moisture. These are all highly valuable benefit in the real world of aerospace, medical devices and military equipment. When considering what coating to use, you must take into the account what level of protection is needed against harsh environments and extreme conditions without sacrificing functionality.

Control. In order to reap the benefits of any coating used, control during the application process is crucial. Controlling the thickness and placement is easy to control in the dimer processes.

Conformity. Parylene conforms even to surfaces with out pooling, bridging or spotting. Since parylene is applied while it is a gaseous state, it can adhere to unusually shaped surfaces and reach small crevices.
Most Common Uses of Parylene Conformal Coating
Circuit Boards
This particular coating possesses several characteristics that make it perfect for circuit board usage. Some of the main qualities include:
Thin enough to fit into areas as small as 0.01mm
Conforming to fit seamlessly on any surface
Resistant to fungus and other deteriorating properties
Rubber and Plastics
Being that the parylene coating is so versatile, it is the ideal coating for rubbers and plastics that need to maintain their flexible properties. The film is able to bind to the plastic securely to provide exceptional coverage.
Medical Devices
Parylene is chemically inert, which makes it safe to use on medically implanted devices. Its resistant qualities also help to maintain the devices in the body longer.
Glass and Windows
The thermal resistant coating proves to be the perfect film to protect glass and windows as they must brave intense elements.

Jake received his Bachelors of Business Administration from California State Polytechnic and has been with Advanced Coating since 2009.
Please Leave a Comment: