Posted by Jake Hinojoza on Nov 28, 2017 9:00:00 AM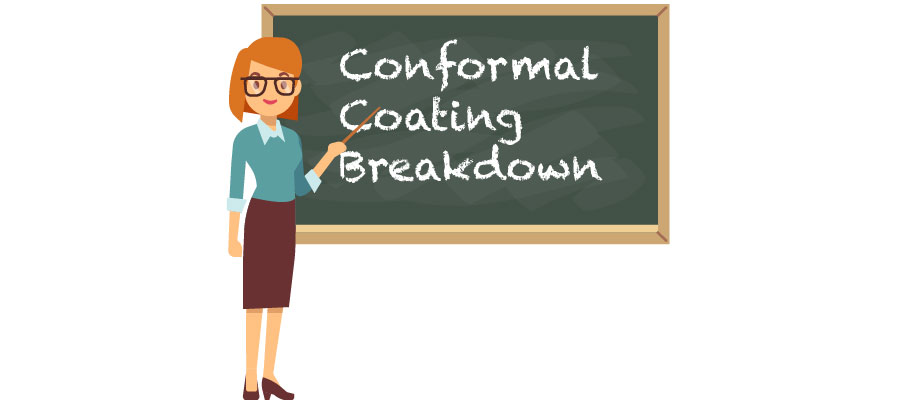 In the world of conformal coating, there are many to choose from. Each boasts their unique protection traits and what set them apart of the others. So it's important to break down what your product's specific need is. In other words, what does your product need to be protected from the most? Water, extreme temperatures, or maybe even gases.
Today we are going to look at acrylic coating, polyurethane, parylene c, and parylene n. These conformal coatings all have protective qualities to them, but when you are looking for a very specific type of production, it's important to break each conformal coating down.
Acrylic Coating (AR)
Acrylic coating is a popular coating used due to its lower cost and its one of the easiest coating to apply, remove and repair. The process of removing an acrylic coating either in its entirety, or partially, is by using a stripping chemical combination. Acrylic coatings dry within minutes to reach optimum physical properties. AR's are also fungus resistant.
Because Acrylic generally has a thickness of up to .005 inches, it's not a candidate for nanotechnology or delicate applications. AR is generally used for mediums that do not have the likelihood of being exposed to extreme or harsh environments.
Polyurethane Coating (UR)
Polyurethane coatings provide excellent humidity resistance and far greater protection from chemical damage than Acrylic coatings. UR also has a long life span, is abrasion and mold resistance. Polyurethane has also shown to be mechanically strong and have a high level of flexibility, even at low temperatures.
Many polyurethane coatings require lengthy cure cycles to achieve their full or optimum properties. However, some UR's can accelerate their cure cycles by applying heat.
Parylene N
Parylene N is the most basic type of parylene available. It boasts a dielectric strength that is much higher than that of Parylene C, and, on top of that, it has unique molecular motion during deposition which allows it to more closely conform to complex shapes. If you need to protect a difficult surface full of cracks, crevices, and tricky topography, then Parylene N is right for the job.
Parylene coatings are generally more expensive and are harder to remove than polyurethane or acrylic, which is the only drawback to parylene.
Parylene C
Parylene C, like all of the parylene types, offers total coverage at a very precise and a very fine thickness levels. Parylene C can protect against acid damage, caustic solutions, and more. It is does not matter what the size or shape of the medium is.
Parylene C also has the ability to withstand vapor permeability, making it especially protective against gases--unlike Parylene N. Along with high levels of thermal stability and electrical insulation, parylene C is the right tool for hundreds of mediums.
The Coating Breakdown
There are many differences between acrylic, polyurethane, parylene N and parylene C, it's important to remember that all offer some type of basic benefit, whether it be cost and simplicity, or more complex benefits like thermal stability, electrical insulation, and longevity. Deciding which type of conformal coating comes down to the specifics; consider your mediums needs, then consider the strengths and weaknesses of every type.
Interested in a quote from our parylene experts? Contact us today!

Jake received his Bachelors of Business Administration from California State Polytechnic and has been with Advanced Coating since 2009.
Please Leave a Comment: